Press release
DK Milk, Tough Negotiator in a Risky Business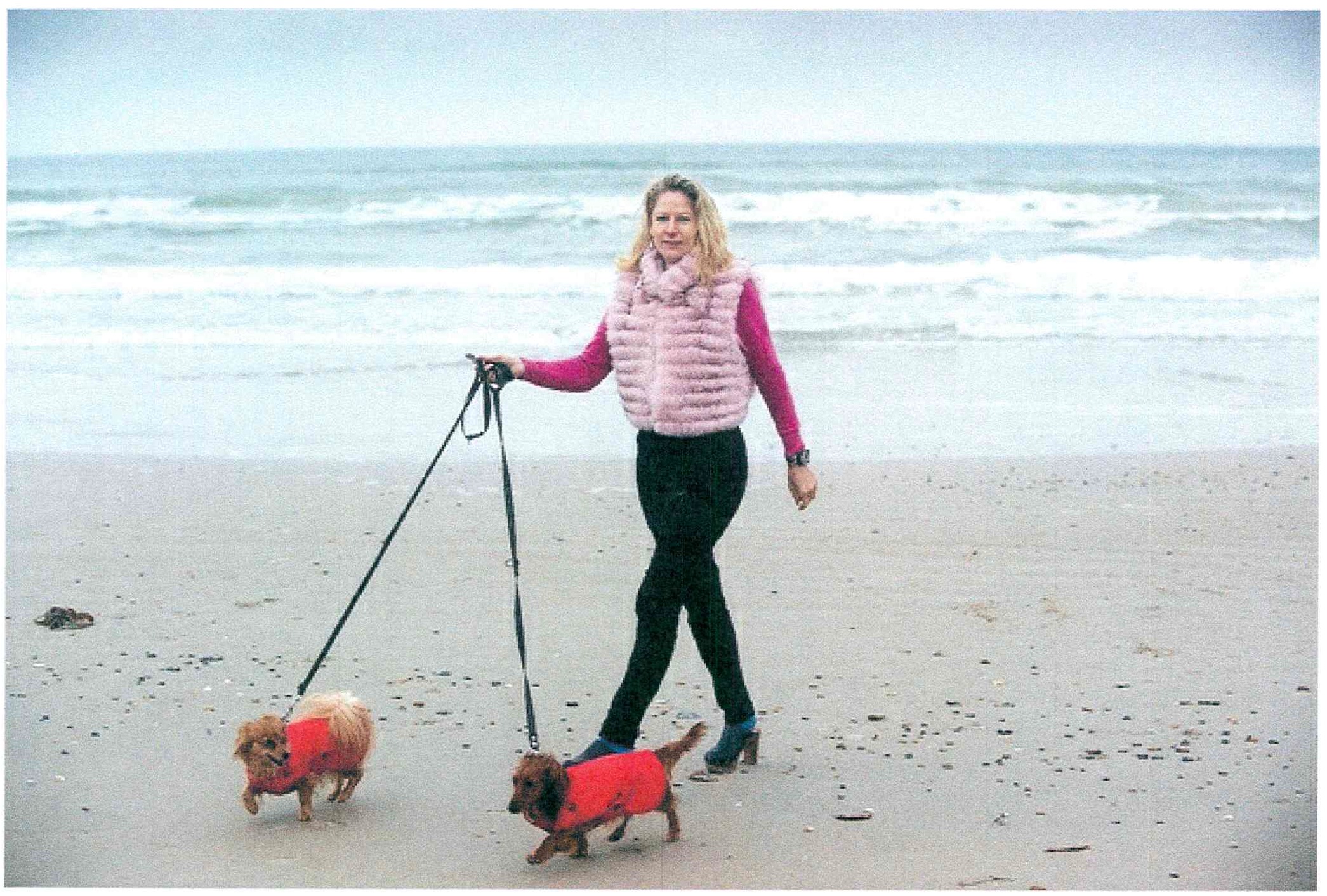 Start date: January 28, 2022 11:00 PM
End date: January 28, 2024 8:53 AM
Tough negotiator in a risky industry

Daisy Krongaard dairy products worth millions every day in her business DK Milk. PORTRAIT By Malene Severinsen The four-wheel drive German ear in the parking lot has got the company of a little red sports ear. Something tells me that the fast red thing also belongs to the DK Milk A/S CEO. ·'Yes. I got it at a good price. but the dogs prefer the spacious four-wheel d rive, Daisy Krongaard smiles. The ice blue eyes and the blond hair automatically make you think of an iee queen. One who knows what she wants. One who I'm sure the Mercedes dealer still remembers. And one I'm sure he doesn't want to sell a ear to again. Because the price was haggled all the way through the floor. One who keeps her cool when a few millions are lost to exchange losses. One who does what it takes. Even if it creates more enemies than friends. One who recommends her financial adviser as the right person to talk to for input on this portrait. However, he isn't allowed to say anything (the bank says), so the turn goes to former eolleague Nitesh Pal, who has known Daisy Kronggard for more than 15 years.
Tough industry
·'She is very sharp and very skilled. A tough negotiator who knows the business. lf s good we're not in the same business," Nitesh Pal. who sells fish and seafood in Nordic Seafood, says and smiles. He adds that she talks a lot, but that she deflates every blonde joke. "She is really smart and knows how to talk to people. She has succeeded in a very tough industry," Nitesh Pal says. She is both accommodating and friendly. but the ice blue eyes are razor sharp. And she is well -prepared. Daisy Krongaard has built a global trading company anchored in trading with dairy products. She is trained and practically grew up in the business. About ten years ago, she decided to go solo and in 2009 her business was awarded the Gazelle award by Børsen. "I was doing well and was sure that I eould do it even better on my own. When you're using your talent, doing what you do is fun." the CEO, who is a farmer's daughter from Haderslev, explains. The slim woman with typical Scandinavian features attracts attention in the markets DK Milk enters. Especially North Africa and the Far East. But she pays no attention to that. Business relationships all over the world are Daisy Krongaard 's fundament nowadays. Betting all on your career has consequences. What 's your biggest career sacrifice ? "My personal energy. But I don't mind that. I haven't got a family yet, but I'm not so sure that my life was meant for that. As a single person. you automatically give everything to your business. " the CEO, whose normal workdays are eight to ten hours, says.
But she doesn't bring work with her to her house by the sea in Blokhus anymore. Her body started protesting, and Daisy Krongaard made some changes to her lifestyle. She still travels a lot dealing with both suppliers and customers. "I have chosen a lifestyle with the entire world as my office and I use it all the time. It's a lifestyle of many business trips and it's very fulfilling to be out in the world," the CEO, who has trouble seeing herself in a traditional Danish couple relationship, says. "'It seems limiting. For me, if s important to give each other room to develop together, but also apart." Daisy Krongaard says.
Took care of the deal herself
When several different advisors gave her different advice on granite and marble for the vacation home she was building, Daisy Krongaard took care of the deal herseIf. "I went round to the factories in Italy who make these rocks and got the answers I needed." she says. When not on business. Daisy Krongaard loves travelling to Thailand where she charges her batteries by the sea. In countries she visits at least twice a year. she stores luggage at the hotels. "Therefore, I only travel with carry on. That way I can avoid the stress of packing and spending unnecessary time waiting for my luggage," she explains. The spiritual world and astrology also play a part in the CEO's life. "I don't run my business according to it, but I'm very conscious about spirituality and astrology. For me personally, they are great tools for navigating through life." Daisy Krongaard says.
Trading house in ruins due to failures
Linas Agro has been hit by supplier failure, expensive raw materials and fraud. Together, they have deflated the company. COMMERCE By Malene Severinsen The misfortunes line up at Linas Agro A/S in Aalborg. A big red bottom line of almost DKK 50 million has knocked the trading house to the ground that is sent to census by failing deliveries, increasing raw material prices and a business partner who has cheated the off millions. "Our parent company has bought all the shares in the company and we have changed our structure so that we no longer sell the majority of our raw materials. but instead at as an agent to Linas Agro in Lithuania,'" says CEO Henrik Klindt Petersen, who has sold his 40% shareholdings to AB Linas Agro.
Empty moneybox
Still, the Lithuanian parent company has been forced to restore equity in the ordic trading house as a loss of DKK 49.6 million i n 2010/2011 has emptied the compan y's moneybox. Linas Agro, former Rosenkrantz N S. has specialised in grain and feed wholesale and vegetable oils. In 2010/2011 the Danish company ·s market share decreased by approx. 25% to 750,000 tons, but increasing prices on raw materials have maintained the turnover. which lands on DKK 1.3 million. In return, problems have lined up at the bottom line. Particularly supplier failure has brought Linas Agro down for the count. Annulments and failing raw material deliveries from alread y signed contracts in the Balkan area
have been costly. Because it has forced the ordic trading house to buy its raw materials somewhere else to be able to fulfil its sales contracts.
Expensive to buy
'·We have completed all our deliveries, but it has been expensive to buy in a market where the prices on raw materials have been increasing," Henrik Klindt Petersen explains. DK Milk A/S in Nørresundby that specializes in global trading of bulk dairy prod uets has noticed an increase in raw material prices. "We expect the same development in 201 2,'. Daisy Krongaard says. The DK Milk CEO has managed to buoy up her eamings and expects a surplus of DKK 2.2 million in 2010/201 1. which is on par with last year. At Linas Agro, a not only volatile price on raw materials has put pressure on the company. A long-standing business partner has in the last financial statement swindled the company out of several millions by issuing false warehouse receipts in connection with pre-payments. When you look back on last year. is there anything you could have done differently? "We haven't done anything different than the previous years. Our risk management has been as strong as always, but we should have been more cautious towards our suppliers." says Henrik Klindt Petersen.
Lower turnover
The CEO stresses that the company has followed its customary procedures. '·We haven't speculated in a way that might have exposed us on purpose," he says. In his new role as 100% owned subsidiary and sales agent to the Linas Agro Group, the Danish business must wave goodbye its million -dollar tumover. However, the CEO does not want to comment on how m uch Jess the revenue might be.
Beliefs in a stable year despite fluctuations
EXPORT By Malene Severinsen CEO Daisy Krongaard expects 201 2 to be a good year for DK Milk A/S. even if the radar has gone red. "It will be a year with focus on management of large and sudden market fluctuations, which will require flexibility and timely care of the organisation." says the CEO who has grossed well over DKK 6 million in the trading house in Nørresundby in the last two years.
Looking overseas
In addition, exchange rate management will play a major part in safe navigation, Daisy Krongaard adds. She hardly expects Europe to be a growth area in 2012. which causes DK Milk to look overseas.
The Euro will be a leverage
·'Exports to other countries must be a priority, especially as the increasingly strong dollar in 2012 in relation to the Euro is a lever for increased exports," is Daisy Krongaard 's assessment.
The two Danish trading houses Nowaco A/S in Aalborg and Kangamiut Seafood A/S in Dronninglund, who both specialise in food, are looking further to achieve growth. For these companies, Africa, among others, is on the radar.
Risky trade worth billions
SPECULA TIONS By Malene Severinsen Massive market speculations increase the risk and forces Danish trading houses to be on their toes. "The market is more brutal and volatile as a result of tremendous raw material price fluctuations, and it has been costly to Linas Agro. Suppliers' failures forced the trading house turn to the market to buy stock for their signed sales contracts. and it was an expensive shopping trip as prices had increased significantly. '·On top of that, exchange rates have fluctuated more extremely than before;' says Henrik Klindt Petersen. At the DK Milk A/S trading house in Nørresundby, specializing in dairy products. CEO Daisy Krongaard has another dark horse on her radar. "Another major theme of 2012 will be the oil price as dairy commodities have followed oil prices very closely and are expected to do so also in 2012. However, we expect the OPEC countries and USA to prepare for a price increase due to the situation in Iran to help achieve a better global economy," Daisy Krongaard assesses. Financing has also become much more difficult in the vulnerable market. "Globally it 's a difficult market to get financing for. The banks are not particularly willing to issue loans. It has become more difficult to finance commodity trading in a sensible way," Henrik Klindt Petersen notes.
Consolidation
According to the CEO, this means that more companies will be looking to consolidate. "Some trading houses close down, while others work together. At the moment, the business is known as very volatile and that forces many to consolidate," Henrik Klindt Petersen explains. Among other things, there are uncertainties regarding supply and demand. which makes the market uncertain, he adds.